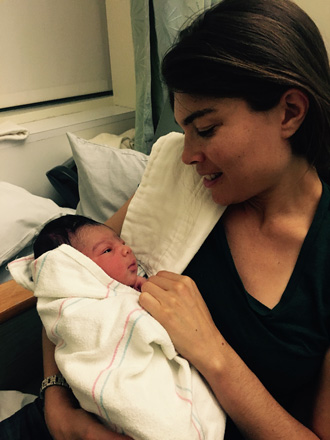 In my experience as a doula attending births since 2009, much of what unfolds in the birth room is the result of the way a mother has prepared – physically, emotionally, psychologically and spiritually, as well as the kind of information she's received and the quality of support she's surrounded herself with. That's why I work with clients not only during labor itself, but in the weeks and months leading up to your birth. I support you in making informed choices well before your estimated due date, so during delivery you can feel relaxed, confident, and comfortable with the birth team you've assembled.
Numerous clinical studies have found that a doula's presence at birth:
tends to result in shorter labors with fewer complications
reduces negative feelings about one's childbirth experience
reduces the need for pitocin (a labor-inducing drug), forceps or vacuum extraction and cesareans
reduces the mother's request for pain medication and/or epidurals
Research shows parents who receive support can:
Feel more secure and cared for
Are more successful in adapting to new family dynamics
Have greater success with breastfeeding
Have greater self-confidence
Have less postpartum depression
Have lower incidence of abuse
I help mom prepare physically for the rigors of labor through prenatal yoga, pelvic floor exercise, imagery and guided breathing. We discuss fears, hopes, emotional blocks, and any concerns to make space for a powerful vision of what's possible. I help facilitate dad's involvement by sharing labor positions you can use as a couple and hands-on comfort measures to support mom leading up to and during birth. Labor support may include massage, aromatherapy, Reiki, and somatic awareness.
Contact me to schedule a complimentary meeting.

"I had the pleasure of working with Ivy for a few sessions before the arrival of my second child. She has an amazing wealth of knowledge about birth and everything that comes with it. She helped me tremendously with confronting and letting go of fears that were deeply rooted surrounding birth. She's incredibly intuitive and it was a blessing to  work with her."
– T. Mazure

"The cadillac of doula's.  Not just intelligent, and not just spiritual.  She's spiritually intelligent."
– D. Kissel