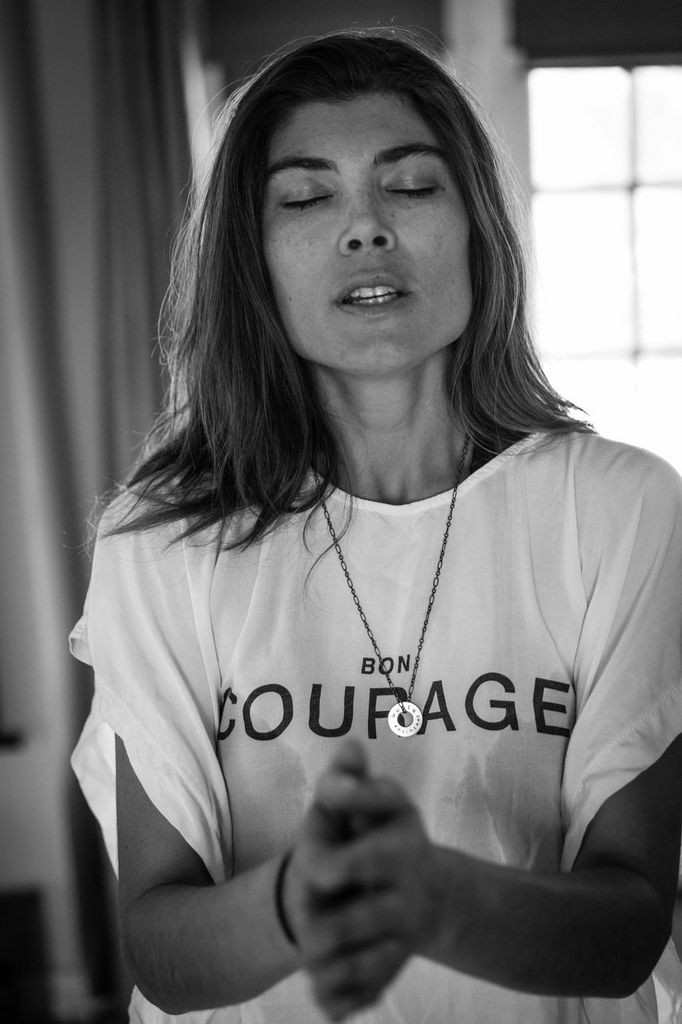 "Working with Ivy through my pregnancy was an enlightening and transformational experience. As a first time mother, I was full of excitement, worry, and knowing only that I was plunging into the unknown. It's natural to have deep fears come up when building a precious being inside of you and having female support during those many months was priceless.  Some of the work Ivy and I did together was yoga and meditation and breath work. But what I loved most was just walking with her and talking about the deepest feelings inside of me. Ivy holds space beautifully and she is somebody who seems to have been born with both strength and tenderness that is so important to be around during this vulnerable time.  She is reliable, trustworthy and passionate about her work."
—L.K., Brentwood, CA

"Enlivening, engaging – Ivy is a burst of energy that lifts you our of your day into the realm of the body – reconnecting you to your core muscles, yes – but to your spirit as well. She listens. She looks. She devises a plan for you – not something off the shelf; but rather a constantly evolving creation. (Come lesson time, she apears full of ideas on how to improve something that wasn't quite right the last time.) Her interest is contageous. Her commitment feeds yours. No matter how busy you are, you find yourself looking forward to sessions because you get stronger and learn so much about movement, posture and the dance of joy you could touch so much more often in your life if only you had the eye for it.. Ivy helps you see."
—B. Holbrooke, NY, New York

"Ivy is one of those women whose beauty shines inside and out and it is infectious.  Upon our first meeting, I felt an instant connection   She is kind, openhearted, insightful, knowledgeable and wise.
I had reached out to Ivy for inspiration and support.   I trusted her to be a mentor, for some honest feedback and looked upon a woman I admired and trusted, that could hold space for me, listen and provide a gameplan to help me. She is a healer and I needed some healing.
Lost, afraid and overwhelmed, we talked through what was going on in my world.  We started by grounding with meditation to get me down as I was definitely flying high…  I shared my current state, my fears, the pressures I was feeling.  I was learning to set up boundaries and how to better communicate.  We talked about my lack of trust in myself.  This topic is one that has been affecting many areas of my life.  We concluded that by trusting myself would then allow me to trust those around me.
Recovering from a relapse from an eating disorder, I was challenged with  low self-esteem, lack of trust in myself and my body's ability to heal, lack of trust in being treated with medication, depression, anxiety and exhaustion coupled with my constant curiosity to learn the lessons of why this was happening and what I was suppose to do with this.   The time and space with this was exhausting and I was struggling.  We  were able to talk through this pain to lighten it up enough to a level where I could connect to myself and my vision again and not feel stuck.
To have this time with Ivy was incredibly comforting and an amazing gift.  I highly recommend Ivy as a mentor, coach and admired holistic healthcare professional."
—M. Strasner, San Diego, CA

"I've been going through a lot of changes lately and am in the process of making high-stakes choices while attempting to be 'true to myself,' something that I've never done holistically before. Numerous questions have come up, including what does it mean to be a man, to be a boy, to navigate commitments made by part of oneself which another part now rejects.
Ivy not only held my hand lovingly through this vulnerable phase but also met my overactive intellectual mind step by step as it spouted questions and objections. It was wonderful not to feel alone.
I now stand feeling that my important relationships are aligned with my core values while having space to discover, rather than to impose, the choices I'll make which are most in service to myself and those I love."
—D. B., San Francisco, CA

"Ivy was professional, caring and knowledgeable, I could really tell that she genuinely wanted me to feel better. She is very intuitive and listened to my concerns. Ivy has many gifts and knowledge in alternative healing and ways of living and I enjoyed our conversations and her guidance…. Ivy is there to create a sacred and healing environment, and it is lovely."
—K.S., North Hollywood, CA